CHAIN Appoints New Non-Executive Directors
MARLOW & NOTTINGHAM, UK. — April 8, 2019 – UK microbiome therapeutics company CHAIN Biotechnology has appointed two new non-executive directors, Dr Nel Moore and Dr Robert Haigh to the Board.
Dr Nel Moore has considerable experience in drug development with a track record taking therapeutics to market as former Global Product Vice President at AstraZeneca. Dr Moore led the development, submission and approval of ZaviceftaTM, a combination drug of the antibiotic cephalosporin and a β-lacatamase inhibitor, for the treatment of multidrug resistant bacterial infections. She went on to build up and lead the antibiotics development organisation as part of a semi-autonomous antibiotics business unit within AstraZeneca. Dr Moore has a PhD in Medical Biochemistry from Birmingham University and currently chairs the CARB-X milestone review board.
Dr Robert Haigh has many years of experience in the pharmaceutical and biotech industry at management level. Dr Haigh served as COO of Oxford spin-out Neuro-Bio Ltd prior to joining CHAIN and co-founded KalVista Pharmaceuticals in 2011. Dr Haigh began his career with Boehringer Ingelheim before moving through senior management roles within Ferring Pharmaceuticals finishing as CEO of their R&D site in the UK and Board Director of the US R&D site. Dr Haigh then led the spinout of Ferring's small molecule assets to become founder and CSO of Vantia Ltd, before founding KalVista Pharmaceuticals where he served as COO.
CHAIN Chief Executive Dr Edward Green commented,
"We are delighted that Nel and Robert have joined the team. They both have considerable expertise and experience in drug development and commercialisation that will support our plans to advance our lead drug candidate into the clinic. The drug is a live biotherapeutic product producing a potent anti-inflammatory metabolite in the large intestine and designed to treat ulcerative colitis."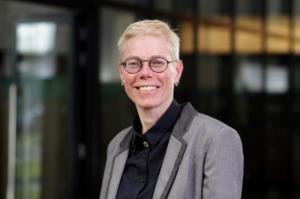 Dr Nel Moore

About CHAIN:
CHAIN Biotechnology is a UK microbiome therapeutics company focused on the development and commercialisation of novel microbial technology for the production and delivery of biotherapeutics to the gut. The company's microbial technology has the potential to be highly disruptive both in terms of cost but also efficacy for the treatment and prevention of chronic and debilitating gut related diseases. CHAIN was founded in 2014 by serial entrepreneur Dr Edward Green. The Company has bases in Marlow (Head office) and MediCity Nottingham (Research Lab).
###