CHAIN Announces Academic Collaboration
CHAIN is pleased to announce a new 18-month research collaboration with Associate Professor John Heap and his research group at the University of Nottingham.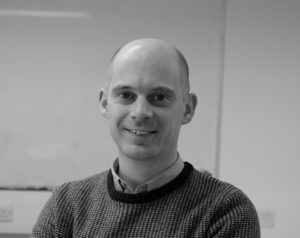 Dr Heap is Associate Professor of Synthetic Biology in the School of Life Sciences at the University of Nottingham, where he is also part of the newly-formed Biodiscovery Institute and the Green Chemicals Beacon.
John has a background in synthetic biology and metabolic engineering. His research group studies the use of natural and engineered metabolism for sustainable biomanufacturing, particularly using unconventional microorganisms with 'exotic' metabolic capabilities. The group's research often involves developing and applying synthetic biology technologies to unlock the potential of these organisms, improve production of valuable chemicals, and enhance other industrially relevant properties.
John moved to the University of Nottingham from Imperial College London in 2019. At Imperial John was a Senior Lecturer in Synthetic Biology in the Department of Life Sciences and his group was based in the Imperial College Centre for Synthetic Biology. Prior to 2011, John undertook his PhD and first postdoctoral research position at the University of Nottingham, where he developed breakthrough genetic tools for industrially and medically important Clostridium bacteria. These include the widely used gene editing methods ACE and ClosTron.
"I am delighted that we are working with the Heap lab. John has world leading expertise engineering Clostridium and developed many of the tools that we currently use.  Together, we will apply our expertise and capabilities in engineering biology to deliver new functionality to our novel microbiome therapeutic platform. Our focus initially will be on metabolite production including β-hydroxy-butyrate. This new collaboration builds on a long-standing relationship with the University of Nottingham involving collaborations with the Synthetic Biology Research Centre and the School of Medicine" said Dr Edward Green, Chief Executive, CHAIN Biotechnology Ltd.
"I am very pleased to be starting this exciting project with CHAIN Biotech. Metabolic engineering of Clostridium enabled by synthetic biology approaches is a long-standing interest of ours, so it's great to tackle such industrially relevant challenges. CHAIN's established platform, team and route to market make this a perfect match.'' said Dr John Heap.
About CHAIN
CHAIN Biotechnology is a UK microbiome therapeutics company founded by biotech entrepreneur Dr Edward Green. The team is based at MediCity, Nottingham with a head office in Marlow, Bucks.
CHAIN has built a proprietary and highly differentiated drug development platform (CADD™) based on a single, but highly effective, Clostridium strain. This platform enables targeted, safe and controllable drug delivery to the colon. CHAIN's live biotherapeutic products also offer significant advantages including ease of manufacture, low cost of goods and stability of the drug product.  CHAIN's unique genetic engineering capability is used to add therapeutic functionality and the platform supports a pipeline of therapeutic candidates addressing multiple diseases associated with the human gut microbiome. These include inflammatory bowel disease but more recently the company has expanded its work to include vaccines and cancer therapies.
About the University of Nottingham
The University of Nottingham is a research-intensive university with a proud heritage, consistently ranked among the world's top 100. Studying at the University of Nottingham is a life-changing experience and we pride ourselves on unlocking the potential of our 44,000 students – Nottingham was named both Sports and International University of the Year in the 2019 Times and Sunday Times Good University Guide, was awarded gold in the TEF 2017 and features in the top 25 of all three major UK rankings. We have a pioneering spirit, expressed in the vision of our founder Sir Jesse Boot, which has seen us lead the way in establishing campuses in China and Malaysia – part of a globally connected network of education, research and industrial engagement. We are ranked eighth for research power in the UK according to REF 2014. We have six beacons of research excellence helping to transform lives and change the world; we are also a major employer, proud of our Athena SWAN silver award, and a key industry partner- locally and globally.