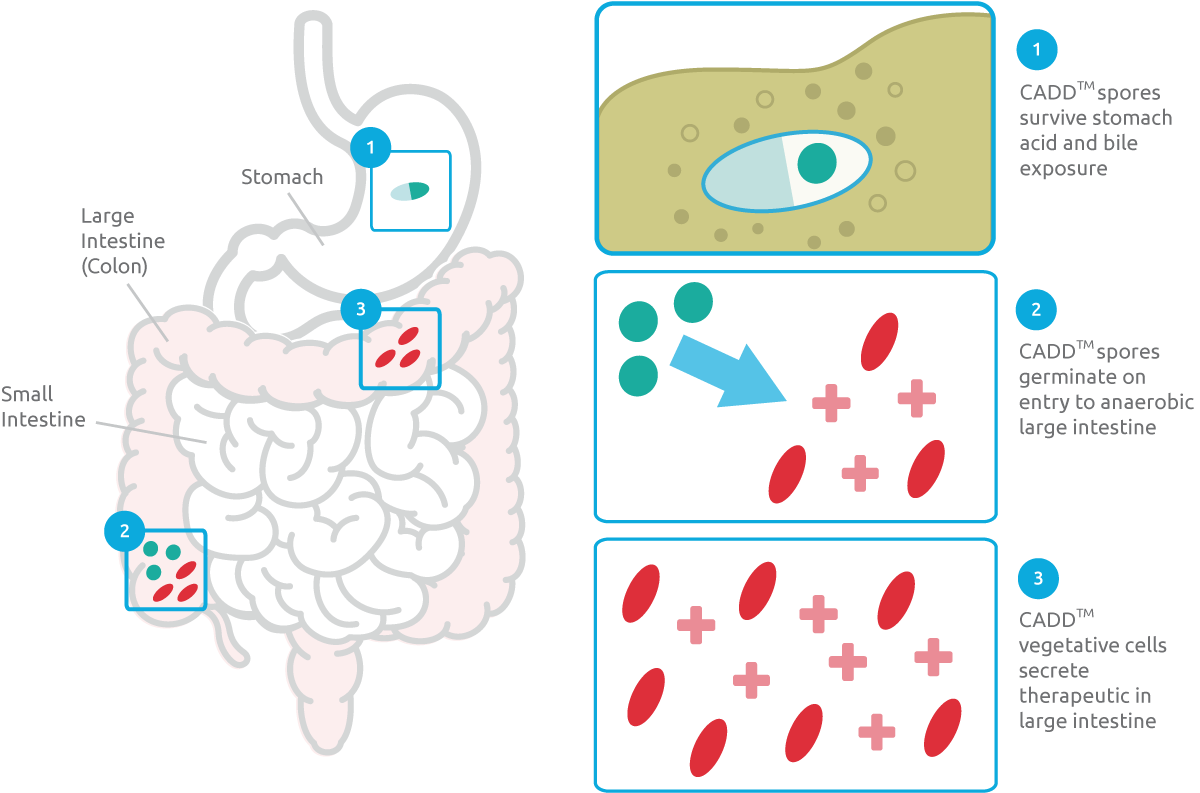 CHAIN partners with Miyarisan Pharmaceutical Ltd to accelerate the development of live biotherapeutics
The UK biotech has announced an investment agreement with Japan-based pharmaceutical company Miyarisan to help scale and manufacture their oral therapeutics pipeline.
Nottingham, UK- 3rd January 2023- FOR IMMEDIATE RELEASE
Miyarisan currently manufacture the probiotic bacterial strain MIYARI 588 for Asian and European markets, and bring extensive Clostridium bacterial spore manufacturing and formulation expertise, along with fermentation process development to the table. Combined with CHAIN's engineering biology expertise, the two companies plan to repurpose a proven Clostridium probiotic species into a therapeutic, co-developing and manufacturing novel oral treatments targeting infection and cancer.
CHAIN's Clostridium Assisted Drug Delivery (CADD) platform has broad therapeutic applications which, with strategic investment and support from Miyarisan, can be used to develop drug candidates addressing a range of immune-oncological and infective targets.
CHAIN has also recently partnered with the University of Oxford, focusing on the development of a superior oral vaccine for Human Rotavirus (HRV). HRV is the leading cause of Childhood Diarrhoeal Diseases (CDDs) in low-income countries, affecting over 1.7 billion children every year and resulting in over 500,000 deaths. CHAIN's oral vaccine being developed through the project aims to subvert the vaccine efficacy gap and combat vaccine inequality, utilising the investment and collaboration from Miyarisan to provide a route to scale-up and manufacture.
CHAIN CEO Dr. Matthew Duchars said:

"CHAIN is excited to have Miyarisan as a strategic investor. Miyarisan have a wealth of experience in commercial scale manufacturing which is highly synergistic with CHAIN's experience in the genetic engineering of probiotic strains. By applying CHAIN's unique CADD system to new disease targets and combining that with Miyarisan's strength in manufacturing, the two companies can accelerate the development of medicines to help prevent and treat target diseases."
Masayuki UCHIDA, President of Miyarisan Pharmaceutical added:

"Miyarisan Pharmaceutical's is pleased to announce an investment in CHAIN Biotechnology. The two companies share a mutual interest in developing products that enhance the microbiome to improve health. CHAIN has combined innovative genetic engineering with microbiome technology using their "CADD" system, and has the potential to broaden microbiome technologies for use against specific disease targets. The combination of CHAIN's high-quality genetic engineering science, coupled with Miyarisan's experience in manufacture of microbiome enhancing live biotherapeutic products will create an opportunity to benefit patients, through the development of new and improved medicines."
About Miyarisan Pharmaceutical
Miyarisan is a pharmaceutical company based in Japan, with a corporate office in Tokyo and manufacturing and development plants in Nagano and Saitama.
Miyarisan manufacture and market their probiotic C.butyricum strain MIYARI 588 in Japan, where it is commercially available to treat both non-antimicrobial induced diarrhoea and antimicrobial associated diarrhoea in humans. The strain was discovered in by Dr. Miyairi in 1933 at the department of Hygiene at Chiba Medical College, and since its first commercial production in 1940, it has developed into an efficacious treatment for colitis and gastroenteritis.
Miyarisan also manufacture over-the-counter probiotics, which are available in Japan and Korea, and were approved by the European Commission as a 'novel food' in 2014 for EU markets. Miyarisan's MIYARI 588-based animal feed additive, MIYA-GOLD, has been shown to increase growth performance without modifying the commensal microbiome when used as a probiotic and is available globally.
For more information, please visit www.miyarisan.com/english_index.htm
About CHAIN Biotech
CHAIN Biotechnology is a microbiome therapeutics company based at MediCity Nottingham with a head office in Marlow. CHAIN develops oral vaccines and immuno-therapies targeting the lower gastrointestinal tract with several therapeutic candidates in pre-clinical development.
CHAIN's Clostridium Assisted Drug Development platform (CADD) technology is based on a single, but highly effective, Clostridium bacterial strain that is engineered to deliver a specific therapeutic modality, whilst also secreting metabolites that play key roles in gut and immune system homeostasis. The engineered strains produce the therapeutics in situ during growth in the lower gastrointestinal tract, impacting on the systemic and mucosal immune system.
The CADD platform supports oral drug delivery that is targeted and controllable. In addition, our live biotherapeutics can be manufactured easily and cost-effectively and are highly stable (no cold chain logistics). The technology overcomes many of the challenges associated with drug delivery and vaccination.
For more information, please visit: https://www.chainbiotech.com