CHAIN has been awarded two grants to support its therapeutic delivery platform from Innovate UK (IUK), the UK's innovation agency. The grant-funded projects will focus on the development and testing of two new biotherapeutics using CHAIN's proprietary delivery platform CADDTM. The projects build on successful IUK funded projects that were used to develop and validate the CADDTM platform. Platform expansion has begun under another IUK project, 'Developing Clostridium as a Novel Secretion System for Therapeutic Peptides', now in its final 12 months.
About the projects:
MICRoMED – 'Microbial restoration of intestinal Metabolite balance for type 2 diabetes' – aims to produce a natural metabolite of gut bacteria. This metabolite is lacking in patients suffering from type 2 diabetes. This is a 12-month proof of concept project that leverages our skills in metabolic pathway engineering of Clostridium bacteria. In the UK, 90% of 3.7 million diabetes patients suffer from type 2 diabetes, with a further 12 million at risk of developing the illness. Globally, over 400 million people worldwide have diabetes and its prevalence is rising in low-middle income countries.
The second project focuses on novel cancer vaccines, called 'Mucosal delivery of Clostridium spores encoding recombinant overlapping peptides of HPV antigen as therapeutic vaccines for cancer'. This is a 12-month proof of concept project funded from the IUK Biomedical Catalyst and performed in collaboration with the University of Oxford. We aim to deliver antigenic peptides that stimulate an immune response against human papilloma virus that could lead to a cost-effective vaccine. The gut mucosa offers a novel route for immunisation. HPV is a common virus that will affect 8 in 10 people, largely without symptoms. High risk, sexually transmitted strains of HPV when untreated lead to cancer, the most common of which is cervical cancer. Approximately 3,100 cases of cervical cancer are diagnosed annually, almost all caused by HPV. Vaccines against HPV help the body clear the virus, reducing the risk of cancer development.
Both projects should deliver new live biotherapeutic products that exemplify our platform technology and demonstrate the broad functionality that can be achieved using an engineering approach. CHAIN's CADDTM technology targeting the gut microbiome is highly differentiated with the potential to transform healthcare across a broad range of chronic and debilitating diseases.
NOTTINGHAM, UK. — January 9th, 2019 — CHAIN has joined EuropaBio as a full member after placing runner-up in the Biotech SME Awards announced in November. As part of this membership, CHAIN gains access to EuropaBio's network and will receive updates from working groups operating in diverse areas such as IP, regulatory policy and personalised medicine.
The awards ceremony in Brussels was held on December 3rd where MEP Paul Rübig, who sits on the Committee for Industry, Research and Energy, hosted the awards ceremony. CHAIN Chief Executive Dr Edward Green represented the company giving a presentation. On becoming a member of EuropaBio, Dr Green said, "CHAIN is delighted to be recognised by the EuropaBio SME Awards; we are an early stage UK-based microbiome therapeutics company, so recognition on the European stage is a big boost for us and validation of our innovative technology platform. We hope recognition will raise awareness of CHAIN's novel and highly differentiated approach to use superior live biotherapeutics to treat chronic and debilitating gut related diseases."
EuropaBio is the largest biotech advocacy group in Europe, with members including national biotech organisations like the UK's BioIndustry Association, industry giants Merck and Bayer, and SMEs. EuropaBio are implementing an SME platform where companies can attend workshops and webinars dedicated to providing advice and helping their development.
About CHAIN:

CHAIN Biotechnology is a UK microbiome company focused on the development and commercialisation of microbial technology for the production and delivery of biotherapeutics to the gut. The company's microbial technology has the potential to be highly disruptive both in terms of cost but also efficacy for the treatment and prevention of chronic and debilitating gut related diseases. CHAIN was founded in 2014 by serial entrepreneur Dr Edward Green. The Company has bases in Marlow (Head office) and MediCity Nottingham (Research Lab).
###
CONTACT INFORMATION
Dr David Kirk
Senior Scientist, CHAIN Biotechnology Ltd
Phone Number: +44 (0) 115 784 0106
Email: david.kirk@chainbiotech.com
CHAIN features in a new explainer document on engineering biology from the UK Bioindustry Association (BIA) published today. Engineering Biology Explained discusses what these areas are all about, showcasing the important contributions made to these industries by UK bioscience companies and outlining the external environment required to ensure that these areas of innovation continue to benefit patients, the economy and society as a whole.
CHAIN's contribution to the piece focuses on our novel CADD drug delivery platform, exemplified by our lead product which delivers R-3-hydroxybutyrate to the large intestine. This report is part of a series of four, covering the issues of antimicrobial resistance, cell and gene therapy, engineering biology and genomics. The engineering biology report was published alongside one covering cell and gene therapy. The reports on antimicrobial resistance and genomics will be published later in October 2018.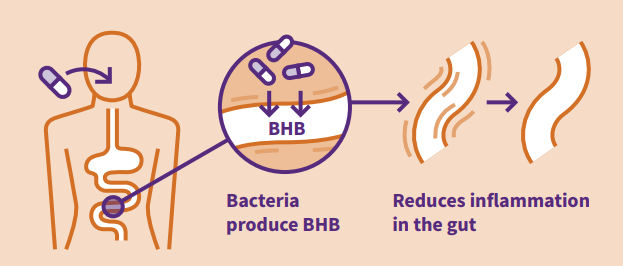 Ben Bradley, our Head of Partnerships and Licensing, is attending Gut-Brain Axis 2018, part of the Biotech Pharma Summit conference series in Paris September 6 & 7. This year's event brings together leading scientists, physicians, and senior leaders to explore the brain and its engagement with the GI-nervous system axis in health and disease.
Chief Executive Dr Edward Green will be in attendance at Clostridium XV in Munich September 18 – 20, with Dr Janina Koelschbach and Emily Powell. Whilst Clostridium species have achieved notoriety as human and animal pathogens, most members of this genus are entirely benign and many have distinctive features of interest for production of fuels and chemicals. CHAIN is keen to collaborate with other experts in the field of Clostridium, so please say hi to our friendly team!
Dr Green will be speaking at the OBN BioTuesday Midlands Showcase hosted by BioCity in Nottingham on September 25.  The evening, which is complimentary to attend, will include a range of targeted keynote talks followed by a series of six showcase presentations from innovative companies predominantly from the Midlands.
Dr Green will be speaking again at EFIB 2018 which will be held in Toulouse on 16 – 18 October. EFIB is the market leading annual event in Europe for Industrial Biotechnology and the Bioeconomy. The focus this year will be on delivering new bio-based products & processes to meet the UN Sustainable Development Goals.
Mr Bradley will be on the "Engineering Biology: The Next Revolution" panel at the UK Bioscience Forum in London on October 18. This panel also features Tim Fell (Synthace), Tim Brears (Evonetix), Ryan Cawood (Oxford Genetics), and Ben Reeve (CustoMem) – so don't miss it!
Mr Bradley will attend the Pharma Integrates 2018 conference in London on November 12-13. This conference brings together key industry leaders across the Pharmaceutical pipeline to share insights and create debate on crucial topics that influence the future of patient outcomes. Talk to Ben to learn more about our novel drug delivery platform.
Dr Green will be presenting at the BioCentury China Healthcare Summit, held in Shanghai 13 – 14 November. The event is sponsored by the BIA, which is supporting UK companies with the UK Department of International Trade to develop relations with Chinese investors.