CHAIN has been awarded two grants to support its therapeutic delivery platform from Innovate UK (IUK), the UK's innovation agency. The grant-funded projects will focus on the development and testing of two new biotherapeutics using CHAIN's proprietary delivery platform CADDTM. The projects build on successful IUK funded projects that were used to develop and validate the CADDTM platform. Platform expansion has begun under another IUK project, 'Developing Clostridium as a Novel Secretion System for Therapeutic Peptides', now in its final 12 months.
About the projects:
MICRoMED – 'Microbial restoration of intestinal Metabolite balance for type 2 diabetes' – aims to produce a natural metabolite of gut bacteria. This metabolite is lacking in patients suffering from type 2 diabetes. This is a 12-month proof of concept project that leverages our skills in metabolic pathway engineering of Clostridium bacteria. In the UK, 90% of 3.7 million diabetes patients suffer from type 2 diabetes, with a further 12 million at risk of developing the illness. Globally, over 400 million people worldwide have diabetes and its prevalence is rising in low-middle income countries.
The second project focuses on novel cancer vaccines, called 'Mucosal delivery of Clostridium spores encoding recombinant overlapping peptides of HPV antigen as therapeutic vaccines for cancer'. This is a 12-month proof of concept project funded from the IUK Biomedical Catalyst and performed in collaboration with the University of Oxford. We aim to deliver antigenic peptides that stimulate an immune response against human papilloma virus that could lead to a cost-effective vaccine. The gut mucosa offers a novel route for immunisation. HPV is a common virus that will affect 8 in 10 people, largely without symptoms. High risk, sexually transmitted strains of HPV when untreated lead to cancer, the most common of which is cervical cancer. Approximately 3,100 cases of cervical cancer are diagnosed annually, almost all caused by HPV. Vaccines against HPV help the body clear the virus, reducing the risk of cancer development.
Both projects should deliver new live biotherapeutic products that exemplify our platform technology and demonstrate the broad functionality that can be achieved using an engineering approach. CHAIN's CADDTM technology targeting the gut microbiome is highly differentiated with the potential to transform healthcare across a broad range of chronic and debilitating diseases.
CHAIN features in a new explainer document on engineering biology from the UK Bioindustry Association (BIA) published today. Engineering Biology Explained discusses what these areas are all about, showcasing the important contributions made to these industries by UK bioscience companies and outlining the external environment required to ensure that these areas of innovation continue to benefit patients, the economy and society as a whole.
CHAIN's contribution to the piece focuses on our novel CADD drug delivery platform, exemplified by our lead product which delivers R-3-hydroxybutyrate to the large intestine. This report is part of a series of four, covering the issues of antimicrobial resistance, cell and gene therapy, engineering biology and genomics. The engineering biology report was published alongside one covering cell and gene therapy. The reports on antimicrobial resistance and genomics will be published later in October 2018.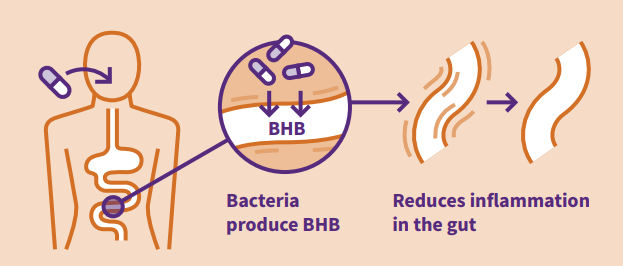 UK biotech to manufacture novel medicines for Inflammatory Bowel Disease using spores of gut bacteria
Three leading British biotechnology businesses have obtained grant funding from Innovate UK to investigate the manufacture of a new class of medicines, targeting a range of clinical conditions through interaction with the human microbiome.
The novel and highly innovative approach is to use spores derived from anaerobic bacteria (Clostridia) that are naturally found in our large intestines to deliver targeted anti-inflammatory therapeutics. Bacterial spores are resistant to acid, so when ingested in a tablet or capsule they are able to pass largely unscathed through the stomach before germinating and releasing the anti-inflammatory bio-actives (payload) to where it is needed in the colon, to treat chronic and debilitating inflammatory conditions, such as Ulcerative Colitis and Crohn's Disease.
The concept has been proven in pre-clinical tests by the project consortium lead CHAIN Biotechnology, but until now a stumbling block has been the lack of a biopharmaceutical manufacturing facility in the UK, able to scale-up and manufacture Clostridial spore-based medicines to the required standard, following good manufacturing practice (GMP), needed for medicinal products for human testing and use. This is where Porton Biopharma with its knowledge and history of developing and producing bio-therapeutics from various spore-forming bacteria, and Scitech which specialises in design, engineering, construction and validation of facilities within the life-science sector will add their expertise.
Developing and testing the technological approach of microbiome targeted therapeutics, and being first in the market with an advanced medicine manufacturing capability and capacity required for such products, would see CHAIN Biotechnology and the UK taking a step closer to becoming world-leaders in this fast growing emerging health care area.
Dr Basil Omar CHAIN's Co-Founder and Chief Commercial Officer said "The output of this feasibility project will support the business case for further investment in a dedicated, advanced manufacturing facility for these breakthrough therapeutic products offering medical treatments and delivering real benefits for long-suffering patients".
Dr Roger Hinton MD of Porton Biopharma said "This is an ideal fit for us given our history of developing biopharmaceuticals from spore formers, knowledge of GMP manufacture and specialised containment microbiology.  We are very excited by the commercial potential."
Dave Grant MD of Scitech said "Life sciences are an essential part of the UK government's new industrial strategy and this award facilitates the creation of much needed new specialist manufacturing industrial infrastructure with new highly-skilled jobs".
Ends
Note to editors:

CHAIN Biotechnology Limited was founded in 2014, by serial entrepreneur Dr Edward Green, to exploit the therapeutic potential of Clostridia bacteria found in the human gut microbiome. CHAIN's innovative platform technology supports a product pipeline, developed through the identification and delivery of small molecules, peptides and natural metabolites that interact positively with the gut microbiome. CHAIN is targeting a broad range of clinical conditions including control of infection and inflammation in the gut as well as interacting with signalling receptors in the gut which have an effect on the Central Nervous System, with potential new treatments for such conditions as depression and neurological disorders.

Porton Biopharma Limited (PBL) manufactures a number of biopharmaceutical products including the UK's anthrax vaccine and Erwinase®, a treatment for childhood leukaemia.  It has state-of-the-art cGMP pharmaceutical manufacturing facilities which are licensed by the MHRA & FDA and employs approximately 300 people.  PBL is registered in England and Wales under company number 9331560.  It was commercialised from Public Health England (PHE) in 2015 to enable it to be better placed to develop the business of developing & manufacturing life-saving biopharmaceutical products.

Scitech Engineering Ltd are specialists in design, engineering, construction and validation for the pharmaceutical, biotechnology and life science sectors.  Formed in 2002 Scitech is an employee owned, highly specialised and skilled business offering a full range of engineering, construction and professional services. 
Inflammatory Bowel Disease (IBD) is a chronic and debilitating set of diseases characterised by inflammation in the lower digestive tract. The most common conditions are Ulcerative Colitis and Crone's Disease. In the EU, IBD affects 2.6M people with annual healthcare costs of >£4.5Bn.  IBD is more common in industrialised nations although incidence is rapidly increasing globally, driven by pursuit of 'westernised' lifestyles in developing countries.

Innovate UK is the UK's innovation agency. It works with people, companies and partner organisations to find and drive the science and technology innovations that will grow the UK economy. For further information visit www.innovateuk.gov.uk
For more information contact
CHAIN Biotech: Dr Basil Omar, Chief Commercial Officer on 0777 166 0800 basil.omar@chainbiotech.com
Porton Biopharma:  Dr Phil Luton, Commercial & marketing Manager on 01980 619723 or 07342 056193 phil.luton@portonbiopharma.com
Scitech: Rachel Slater, Business Development Manager on 01483 270 524 rachel.slater@scitech.com