CHAIN has worked closely with the University of Nottingham since our beginning, and it is our pleasure to announce Anastasiya Buryak the winner of the CHAIN Biotechnology Award for Best Student Ambassador for Biotech and Best Academic Performance. CHAIN attended the award ceremony last week at the University's Sutton-Bonnington Campus and we caught up with Anastasiya for a quick interview about her thoughts on biotech and her plans for the future.
What do you like about studying biotech?
What fascinates me the most about studying Biotechnology is that it allows the exploration of multiple disciplines, whether it is microbiology, nanotechnology, agriculture or pharmacology. I value that Biotechnology effectively uses biological principles to develop revolutionary technologies and products which positively impact on health, medicine, food and the environment. There are no limits to knowledge exploration and what ideas you can bring to this discipline.
What have you achieved as student ambassador for biotech last year?
Being a student ambassador for biotech is not just about presenting the Biotechnology course and university to visitors, leading a group of prospective students around campus or talking about student life. For me it is so much more: it is about demonstrating how important it is to study science and what benefits it can bring to humanity. What I enjoy the most as a student ambassador is meeting new people and share my passion, views and experiences with them. Sometimes I get a chance to meet 'academically disoriented' students, who have a great interest in biology and its applications but struggle to choose a particular course. And I learned to use this opportunity to help them understand what Biotechnology is about and how it revolutionised the scientific world. It is especially relevant to me, as I was at that stage whilst doing my A-levels. Similar to any student, I went through stressful and significant time choosing what I want to do in the future. Importantly whilst doing laboratory demonstrations during open days, I conveyed my enthusiasm in studying biotechnology and learned how to encourage and motivate students to study this course.
What would you like to do after graduation?
I am currently going into my third year of Biotechnology at the University of Nottingham and my career plan is to contribute to the healthcare industry. I have an interest in the pharmaceutical industry, in particular working on the development of novel drugs and cosmetics products, which will significantly advance public health, improve patient care and benefit customer needs. Among the main principles, I live my life by is "Be useful for this world! Target your energy on making this world a healthier and safer place". Therefore after graduation, I see myself working in a company with a scientific environment among talented individuals. I hope to meet with various every day challenges whilst generating extraordinary and influential ideas, which have the potential to make life better. Constant learning and collaborating with others is what, I believe, will help me and others to achieve a valuable and unique contribution to improving human health.
NOTTINGHAM, UK. — January 9th, 2019 — CHAIN has joined EuropaBio as a full member after placing runner-up in the Biotech SME Awards announced in November. As part of this membership, CHAIN gains access to EuropaBio's network and will receive updates from working groups operating in diverse areas such as IP, regulatory policy and personalised medicine.
The awards ceremony in Brussels was held on December 3rd where MEP Paul Rübig, who sits on the Committee for Industry, Research and Energy, hosted the awards ceremony. CHAIN Chief Executive Dr Edward Green represented the company giving a presentation. On becoming a member of EuropaBio, Dr Green said, "CHAIN is delighted to be recognised by the EuropaBio SME Awards; we are an early stage UK-based microbiome therapeutics company, so recognition on the European stage is a big boost for us and validation of our innovative technology platform. We hope recognition will raise awareness of CHAIN's novel and highly differentiated approach to use superior live biotherapeutics to treat chronic and debilitating gut related diseases."
EuropaBio is the largest biotech advocacy group in Europe, with members including national biotech organisations like the UK's BioIndustry Association, industry giants Merck and Bayer, and SMEs. EuropaBio are implementing an SME platform where companies can attend workshops and webinars dedicated to providing advice and helping their development.
About CHAIN:

CHAIN Biotechnology is a UK microbiome company focused on the development and commercialisation of microbial technology for the production and delivery of biotherapeutics to the gut. The company's microbial technology has the potential to be highly disruptive both in terms of cost but also efficacy for the treatment and prevention of chronic and debilitating gut related diseases. CHAIN was founded in 2014 by serial entrepreneur Dr Edward Green. The Company has bases in Marlow (Head office) and MediCity Nottingham (Research Lab).
###
CONTACT INFORMATION
Dr David Kirk
Senior Scientist, CHAIN Biotechnology Ltd
Phone Number: +44 (0) 115 784 0106
Email: david.kirk@chainbiotech.com
CHAIN features in a new explainer document on engineering biology from the UK Bioindustry Association (BIA) published today. Engineering Biology Explained discusses what these areas are all about, showcasing the important contributions made to these industries by UK bioscience companies and outlining the external environment required to ensure that these areas of innovation continue to benefit patients, the economy and society as a whole.
CHAIN's contribution to the piece focuses on our novel CADD drug delivery platform, exemplified by our lead product which delivers R-3-hydroxybutyrate to the large intestine. This report is part of a series of four, covering the issues of antimicrobial resistance, cell and gene therapy, engineering biology and genomics. The engineering biology report was published alongside one covering cell and gene therapy. The reports on antimicrobial resistance and genomics will be published later in October 2018.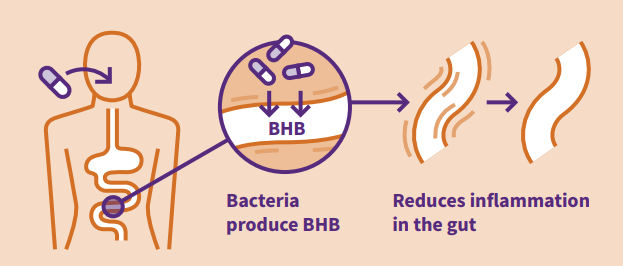 Ben Bradley, our Head of Partnerships and Licensing, is attending Gut-Brain Axis 2018, part of the Biotech Pharma Summit conference series in Paris September 6 & 7. This year's event brings together leading scientists, physicians, and senior leaders to explore the brain and its engagement with the GI-nervous system axis in health and disease.
Chief Executive Dr Edward Green will be in attendance at Clostridium XV in Munich September 18 – 20, with Dr Janina Koelschbach and Emily Powell. Whilst Clostridium species have achieved notoriety as human and animal pathogens, most members of this genus are entirely benign and many have distinctive features of interest for production of fuels and chemicals. CHAIN is keen to collaborate with other experts in the field of Clostridium, so please say hi to our friendly team!
Dr Green will be speaking at the OBN BioTuesday Midlands Showcase hosted by BioCity in Nottingham on September 25.  The evening, which is complimentary to attend, will include a range of targeted keynote talks followed by a series of six showcase presentations from innovative companies predominantly from the Midlands.
Dr Green will be speaking again at EFIB 2018 which will be held in Toulouse on 16 – 18 October. EFIB is the market leading annual event in Europe for Industrial Biotechnology and the Bioeconomy. The focus this year will be on delivering new bio-based products & processes to meet the UN Sustainable Development Goals.
Mr Bradley will be on the "Engineering Biology: The Next Revolution" panel at the UK Bioscience Forum in London on October 18. This panel also features Tim Fell (Synthace), Tim Brears (Evonetix), Ryan Cawood (Oxford Genetics), and Ben Reeve (CustoMem) – so don't miss it!
Mr Bradley will attend the Pharma Integrates 2018 conference in London on November 12-13. This conference brings together key industry leaders across the Pharmaceutical pipeline to share insights and create debate on crucial topics that influence the future of patient outcomes. Talk to Ben to learn more about our novel drug delivery platform.
Dr Green will be presenting at the BioCentury China Healthcare Summit, held in Shanghai 13 – 14 November. The event is sponsored by the BIA, which is supporting UK companies with the UK Department of International Trade to develop relations with Chinese investors.
CHAIN plans to attend a record number of microbiome and biotech conferences over the next year to showcase our therapeutic platform and identify partners for the development of novel, targeted therapies.
First up is the Spores Conference in April where our Technical Product Manager, Dr Daniela Heeg, will speak about CHAIN's novel therapeutic delivery platform. The list below is by no means exhaustive – so watch this space! Follow CHAIN on twitter and LinkedIn for updates.
8th European Spores Conference
April 16-19, Royal Holloway University of London, UK
Biotrinity 2018 will be attended by our Innovation Manager, Ben Bradley, who is speaking on 25th during the BioLaunchPad session
April 23-25th, London, UK
Biotech Investment Showcase
May 22-23, London, UK
2nd Annual Microbiome Discovery and Development Congress
June 7-8, Berlin, Germany
Microbiome Drug Development
June 19-21, Boston, USA
7th International Human Microbiome Congress 2018
June 26-28, APC Microbiome Institute Cork, Ireland