Following successful patent applications in the EU and US, CHAIN have extended their patent territories and claimed delivery of β-hydroxy butyrate (β-HB) to the gastrointestinal (GI) tract in Japan. The patent family (publication number: WO2018055388) 'Compositions and uses thereof for treating inflammatory diseases and probiotic compositions' covers genetically engineered bacterial strains to express β-HB in the lower GI tract.
β-HB has gained recent attention as a powerful therapeutic targeting a variety of GI diseases, including inflammatory bowel disease and colorectal cancer. However, traditional delivery methods present overloading issues surrounding carrier substances such as salts or esters; a factor which can be bypassed by direct delivery of β-HB to the lower GI tract. CHAIN's novel CADD™ platform bacterial strain is engineered to secrete β-HB on arrival in the lower GI tract where it can elicit its therapeutic effects, removing the need for additional compounds.
A recent Nature publication has highlighted a possible role of β-HB in the suppression of colorectal cancer by modulating gene expression and inhibiting cell proliferation. The research presents promising future roles of β-HB as an oncological therapeutic.
CHAIN hopes to further extend the patent in the future, to maximise the impact of therapeutic β-HB in treating GI disease.
Oxford, UK – 2nd July 2019
Oxford Vacmedix UK Limited (OVM), the UK-based biopharma company focused on the development of cancer vaccines, announced today the award of an Innovate UK grant to CHAIN Biotechnology Ltd (CHAIN) and the University of Oxford to develop live biotherapeutics that support oral delivery for OVM's recombinant overlapping peptide (ROP) cancer vaccines. The research will use CHAIN's proprietary microbiome technology and the world-class research facilities in the University's department of Oncology.
The project will initially focus on OVM-100 in a research project titled "Mucosal delivery of Clostridium spores encoding recombinant overlapping peptides (ROPs) of HPV antigen as therapeutic vaccines for cervical cancer". This will bring together University of Oxford's expertise and CHAIN's innovative microbial delivery platform to establish the effectiveness of delivering ROPs to the colon for the treatment of cervical cancer.
Spun out from the University of Oxford, OVM holds an exclusive licence for the ROP technology. The technology uses the novel, proprietary platform of ROPs to design and develop therapeutic cancer vaccines and diagnostics with the potential for increased efficacy, lower costs, simpler regulatory pathways and synergy when used in combination with other immune-oncology agents. OVM is developing two cancer vaccines, OVM-100 and OVM-200, focusing on unmet clinical need. OVM-100 is an HPV vaccine targeted at cervical cancer. OVM-200 represents a new type of vaccine utilising survivin, a protein inhibitor of apoptosis, to target solid tumours.
Dr Shisong Jiang, Principal Investigator in the Department of Oncology and Founder of OVM, said:
"We are delighted to have this opportunity to work with CHAIN on this exciting project. The importance of effective and controlled delivery is key to the development of new cancer vaccine and we are very pleased to have support and funding from Innovate UK for this work on our immunotherapy cancer vaccines."
Dr Edward Green, Chief Executive and Founder of CHAIN added:
"This project provides a further opportunity to exemplify our Clostridium-Assisted Drug Development (CADDTM) platform for targeted gut delivery of therapeutic peptides. We look forward to a successful collaboration with OVM and to establishing a combination approach that simplifies and accelerates the development of oral cancer vaccines providing significant patient benefits."
For more information or to arrange an interview, please contact:
William Finch, CEO, Oxford Vacmedix
T: +44 (0) 1865 742087 | M: +44(0)7769 903711 | E: wfinch@oxfordvacmedix.com
https://www.oxfordvacmedix.com
About Oxford Vacmedix
Oxford Vacmedix UK Ltd, based on the Oxford Science Park, UK, is a bio-pharma company that utilizes the novel proprietary platform technology of recombinant overlapping peptides (ROPs) invented by Dr Shisong Jiang. ROPs have been validated as a technology to stimulate broad and strong T cell immunity therefore forming a good platform for cancer therapeutic vaccines and diagnostics. The company is a spin-out of the University of Oxford and has extensive contacts and collaborations in China through Changzhou Bioscience that is using the ROP platform in both diagnostics and adoptive cell therapy.
For more information, please visit: www.oxfordvacmedix.com/
About CHAIN Biotech
CHAIN Biotechnology Ltd is a UK-based microbiome therapeutic company focused on the development and commercialisation of live biotherapeutic products (LBPs). LBPs are a new class of drug based on living bacteria found in the gut but engineered to deliver specific therapeutic molecules. We specialise in engineering Clostridia bacteria and our proprietary technology platform (CADDTM), based on a single bacterial species, supports multiple therapeutic products. CHAIN's products address unmet clinical needs for safer, more effective and lower cost drugs. Treatments for diseases associated with the human gut microbiome have the potential to transform healthcare across many chronic and debilitating diseases. CHAIN was founded in 2014, by biotech entrepreneur Dr Edward Green and has labs at MediCity Nottingham with a head office in Marlow. CHAIN has assembled a highly experienced management team and Board comprising biotech and pharma leaders plus expert scientists with skills in microbiology, engineering biology and fermentation.
For more information, please visit: https://chainbiotech.com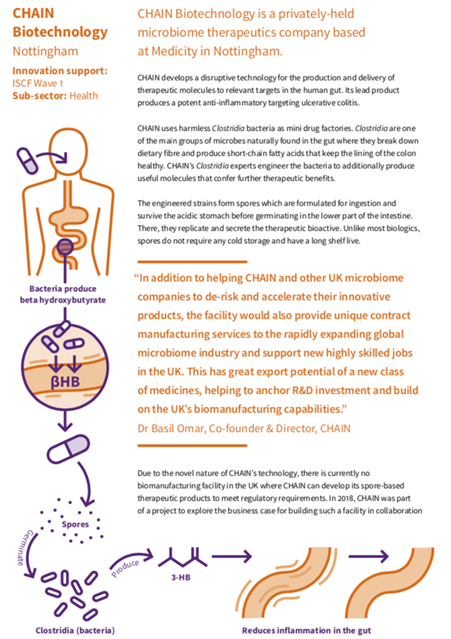 CHAIN's drug delivery platform and lead product, β-hydroxybutyrate, is highlighted in a new report 'Catalysing Investment and Growth', released by the BioIndustry Association this week. Our microbiome therapeutics are based on spores of Clostridium bacterial species. We have successfully demonstrated scale-up of bacterial spore production with our partners at Porton Biopharma Ltd as part of the Industrial Strategy Challenge Fund, through a grant awarded by Innovate UK. The project also investigated the feasibility of developing a production facility with another UK company, Scitech Engineering Ltd.
The report explains how investment and growth is driven by the UK life sciences sector and emphasises the need for further public investment in the sector. The report aims to inform the Government, UK Research and Innovation (UKRI), and other policymakers as they prepare for the upcoming Spending Review and develop an R&D roadmap to reach the target of raising R&D investment to 2.4% of GDP by 2027. The full report can be found here.
CHAIN has been awarded two grants to support its therapeutic delivery platform from Innovate UK (IUK), the UK's innovation agency. The grant-funded projects will focus on the development and testing of two new biotherapeutics using CHAIN's proprietary delivery platform CADDTM. The projects build on successful IUK funded projects that were used to develop and validate the CADDTM platform. Platform expansion has begun under another IUK project, 'Developing Clostridium as a Novel Secretion System for Therapeutic Peptides', now in its final 12 months.
About the projects:
MICRoMED – 'Microbial restoration of intestinal Metabolite balance for type 2 diabetes' – aims to produce a natural metabolite of gut bacteria. This metabolite is lacking in patients suffering from type 2 diabetes. This is a 12-month proof of concept project that leverages our skills in metabolic pathway engineering of Clostridium bacteria. In the UK, 90% of 3.7 million diabetes patients suffer from type 2 diabetes, with a further 12 million at risk of developing the illness. Globally, over 400 million people worldwide have diabetes and its prevalence is rising in low-middle income countries.
The second project focuses on novel cancer vaccines, called 'Mucosal delivery of Clostridium spores encoding recombinant overlapping peptides of HPV antigen as therapeutic vaccines for cancer'. This is a 12-month proof of concept project funded from the IUK Biomedical Catalyst and performed in collaboration with the University of Oxford. We aim to deliver antigenic peptides that stimulate an immune response against human papilloma virus that could lead to a cost-effective vaccine. The gut mucosa offers a novel route for immunisation. HPV is a common virus that will affect 8 in 10 people, largely without symptoms. High risk, sexually transmitted strains of HPV when untreated lead to cancer, the most common of which is cervical cancer. Approximately 3,100 cases of cervical cancer are diagnosed annually, almost all caused by HPV. Vaccines against HPV help the body clear the virus, reducing the risk of cancer development.
Both projects should deliver new live biotherapeutic products that exemplify our platform technology and demonstrate the broad functionality that can be achieved using an engineering approach. CHAIN's CADDTM technology targeting the gut microbiome is highly differentiated with the potential to transform healthcare across a broad range of chronic and debilitating diseases.
NOTTINGHAM, UK. — January 9th, 2019 — CHAIN has joined EuropaBio as a full member after placing runner-up in the Biotech SME Awards announced in November. As part of this membership, CHAIN gains access to EuropaBio's network and will receive updates from working groups operating in diverse areas such as IP, regulatory policy and personalised medicine.
The awards ceremony in Brussels was held on December 3rd where MEP Paul Rübig, who sits on the Committee for Industry, Research and Energy, hosted the awards ceremony. CHAIN Chief Executive Dr Edward Green represented the company giving a presentation. On becoming a member of EuropaBio, Dr Green said, "CHAIN is delighted to be recognised by the EuropaBio SME Awards; we are an early stage UK-based microbiome therapeutics company, so recognition on the European stage is a big boost for us and validation of our innovative technology platform. We hope recognition will raise awareness of CHAIN's novel and highly differentiated approach to use superior live biotherapeutics to treat chronic and debilitating gut related diseases."
EuropaBio is the largest biotech advocacy group in Europe, with members including national biotech organisations like the UK's BioIndustry Association, industry giants Merck and Bayer, and SMEs. EuropaBio are implementing an SME platform where companies can attend workshops and webinars dedicated to providing advice and helping their development.
About CHAIN:

CHAIN Biotechnology is a UK microbiome company focused on the development and commercialisation of microbial technology for the production and delivery of biotherapeutics to the gut. The company's microbial technology has the potential to be highly disruptive both in terms of cost but also efficacy for the treatment and prevention of chronic and debilitating gut related diseases. CHAIN was founded in 2014 by serial entrepreneur Dr Edward Green. The Company has bases in Marlow (Head office) and MediCity Nottingham (Research Lab).
###
CONTACT INFORMATION
Dr David Kirk
Senior Scientist, CHAIN Biotechnology Ltd
Phone Number: +44 (0) 115 784 0106
Email: david.kirk@chainbiotech.com
In November, CHAIN moved research base from the University of Nottingham into independent lab and office space at the art deco MediCity building in Nottingham. The move coincides with the Company's expansion, hiring Lab Manager Claire Evans earlier this year to oversee the move and Junior Scientist Matthew Allen more recently to begin work on new grant funded projects beginning in the new year.
The new lab space allows for strain engineering, microbial cultivation, process development and product analysis. Despite the move, we will continue to partner with the Prof. Nigel Minton, a world-leader in clostridial gene technologies, at the University of Nottingham's Synthetic Biology Research Centre. We are looking forward to fully implementing GMP practices to our processes and advancing our lead product, CHN-1, towards the clinic.
We would like to thank the BioCity Group and MediCity team for all their help and support during the move!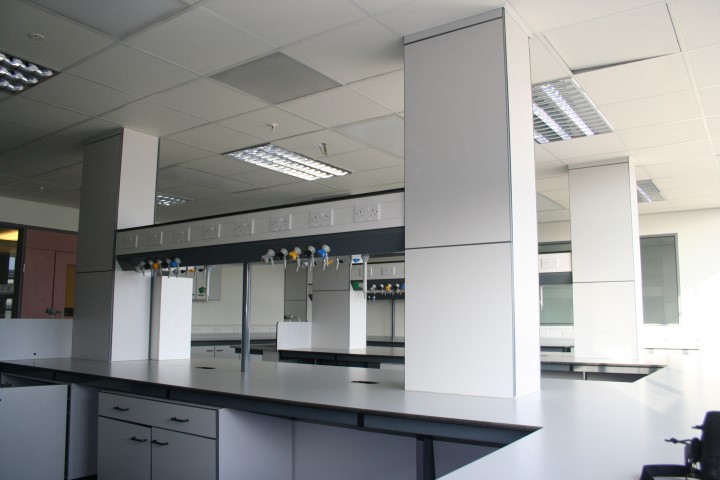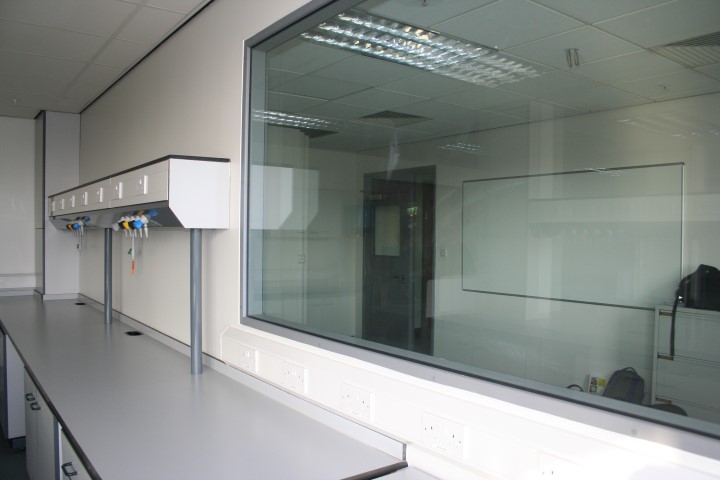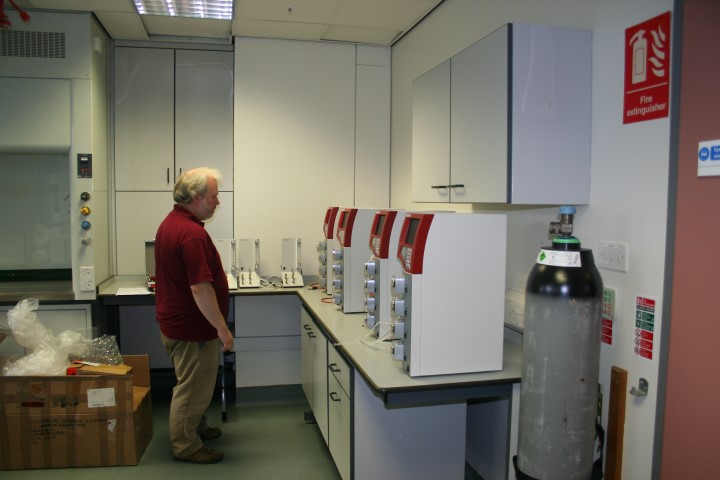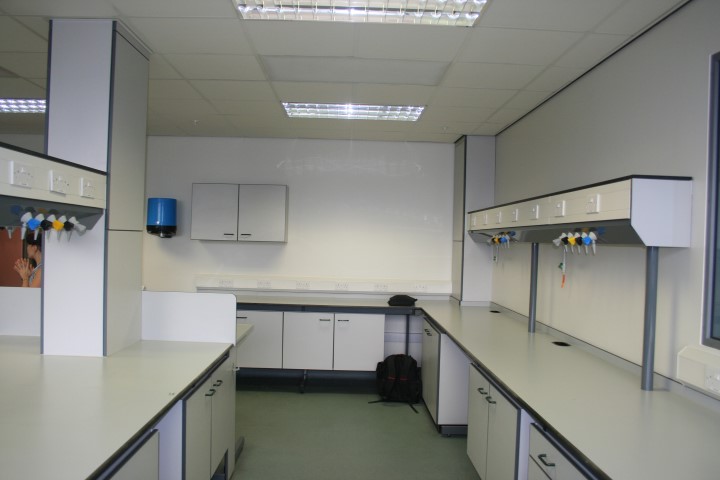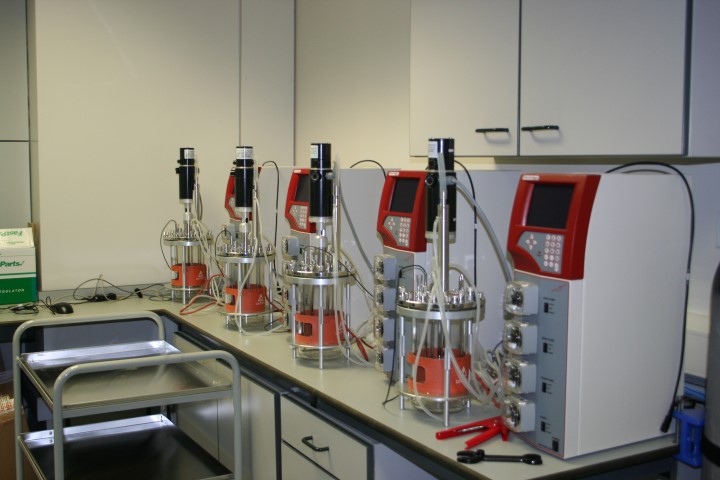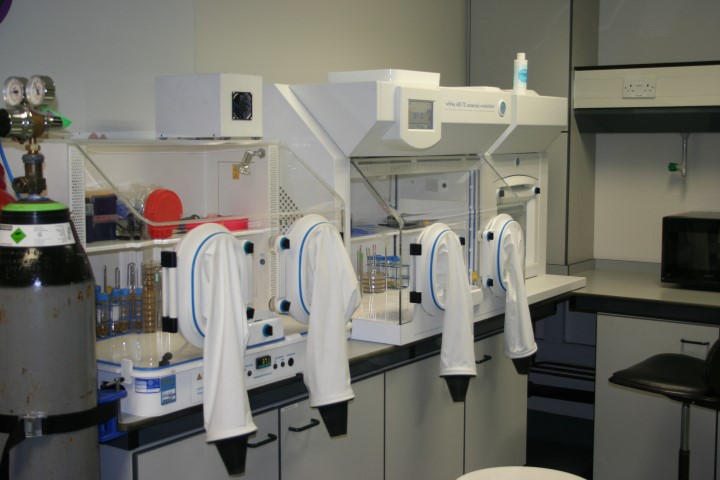 Ben Bradley, our Head of Partnerships and Licensing, is attending Gut-Brain Axis 2018, part of the Biotech Pharma Summit conference series in Paris September 6 & 7. This year's event brings together leading scientists, physicians, and senior leaders to explore the brain and its engagement with the GI-nervous system axis in health and disease.
Chief Executive Dr Edward Green will be in attendance at Clostridium XV in Munich September 18 – 20, with Dr Janina Koelschbach and Emily Powell. Whilst Clostridium species have achieved notoriety as human and animal pathogens, most members of this genus are entirely benign and many have distinctive features of interest for production of fuels and chemicals. CHAIN is keen to collaborate with other experts in the field of Clostridium, so please say hi to our friendly team!
Dr Green will be speaking at the OBN BioTuesday Midlands Showcase hosted by BioCity in Nottingham on September 25.  The evening, which is complimentary to attend, will include a range of targeted keynote talks followed by a series of six showcase presentations from innovative companies predominantly from the Midlands.
Dr Green will be speaking again at EFIB 2018 which will be held in Toulouse on 16 – 18 October. EFIB is the market leading annual event in Europe for Industrial Biotechnology and the Bioeconomy. The focus this year will be on delivering new bio-based products & processes to meet the UN Sustainable Development Goals.
Mr Bradley will be on the "Engineering Biology: The Next Revolution" panel at the UK Bioscience Forum in London on October 18. This panel also features Tim Fell (Synthace), Tim Brears (Evonetix), Ryan Cawood (Oxford Genetics), and Ben Reeve (CustoMem) – so don't miss it!
Mr Bradley will attend the Pharma Integrates 2018 conference in London on November 12-13. This conference brings together key industry leaders across the Pharmaceutical pipeline to share insights and create debate on crucial topics that influence the future of patient outcomes. Talk to Ben to learn more about our novel drug delivery platform.
Dr Green will be presenting at the BioCentury China Healthcare Summit, held in Shanghai 13 – 14 November. The event is sponsored by the BIA, which is supporting UK companies with the UK Department of International Trade to develop relations with Chinese investors.
UK biotech to manufacture novel medicines for Inflammatory Bowel Disease using spores of gut bacteria
Three leading British biotechnology businesses have obtained grant funding from Innovate UK to investigate the manufacture of a new class of medicines, targeting a range of clinical conditions through interaction with the human microbiome.
The novel and highly innovative approach is to use spores derived from anaerobic bacteria (Clostridia) that are naturally found in our large intestines to deliver targeted anti-inflammatory therapeutics. Bacterial spores are resistant to acid, so when ingested in a tablet or capsule they are able to pass largely unscathed through the stomach before germinating and releasing the anti-inflammatory bio-actives (payload) to where it is needed in the colon, to treat chronic and debilitating inflammatory conditions, such as Ulcerative Colitis and Crohn's Disease.
The concept has been proven in pre-clinical tests by the project consortium lead CHAIN Biotechnology, but until now a stumbling block has been the lack of a biopharmaceutical manufacturing facility in the UK, able to scale-up and manufacture Clostridial spore-based medicines to the required standard, following good manufacturing practice (GMP), needed for medicinal products for human testing and use. This is where Porton Biopharma with its knowledge and history of developing and producing bio-therapeutics from various spore-forming bacteria, and Scitech which specialises in design, engineering, construction and validation of facilities within the life-science sector will add their expertise.
Developing and testing the technological approach of microbiome targeted therapeutics, and being first in the market with an advanced medicine manufacturing capability and capacity required for such products, would see CHAIN Biotechnology and the UK taking a step closer to becoming world-leaders in this fast growing emerging health care area.
Dr Basil Omar CHAIN's Co-Founder and Chief Commercial Officer said "The output of this feasibility project will support the business case for further investment in a dedicated, advanced manufacturing facility for these breakthrough therapeutic products offering medical treatments and delivering real benefits for long-suffering patients".
Dr Roger Hinton MD of Porton Biopharma said "This is an ideal fit for us given our history of developing biopharmaceuticals from spore formers, knowledge of GMP manufacture and specialised containment microbiology.  We are very excited by the commercial potential."
Dave Grant MD of Scitech said "Life sciences are an essential part of the UK government's new industrial strategy and this award facilitates the creation of much needed new specialist manufacturing industrial infrastructure with new highly-skilled jobs".
Ends
Note to editors:

CHAIN Biotechnology Limited was founded in 2014, by serial entrepreneur Dr Edward Green, to exploit the therapeutic potential of Clostridia bacteria found in the human gut microbiome. CHAIN's innovative platform technology supports a product pipeline, developed through the identification and delivery of small molecules, peptides and natural metabolites that interact positively with the gut microbiome. CHAIN is targeting a broad range of clinical conditions including control of infection and inflammation in the gut as well as interacting with signalling receptors in the gut which have an effect on the Central Nervous System, with potential new treatments for such conditions as depression and neurological disorders.

Porton Biopharma Limited (PBL) manufactures a number of biopharmaceutical products including the UK's anthrax vaccine and Erwinase®, a treatment for childhood leukaemia.  It has state-of-the-art cGMP pharmaceutical manufacturing facilities which are licensed by the MHRA & FDA and employs approximately 300 people.  PBL is registered in England and Wales under company number 9331560.  It was commercialised from Public Health England (PHE) in 2015 to enable it to be better placed to develop the business of developing & manufacturing life-saving biopharmaceutical products.

Scitech Engineering Ltd are specialists in design, engineering, construction and validation for the pharmaceutical, biotechnology and life science sectors.  Formed in 2002 Scitech is an employee owned, highly specialised and skilled business offering a full range of engineering, construction and professional services. 
Inflammatory Bowel Disease (IBD) is a chronic and debilitating set of diseases characterised by inflammation in the lower digestive tract. The most common conditions are Ulcerative Colitis and Crone's Disease. In the EU, IBD affects 2.6M people with annual healthcare costs of >£4.5Bn.  IBD is more common in industrialised nations although incidence is rapidly increasing globally, driven by pursuit of 'westernised' lifestyles in developing countries.

Innovate UK is the UK's innovation agency. It works with people, companies and partner organisations to find and drive the science and technology innovations that will grow the UK economy. For further information visit www.innovateuk.gov.uk
For more information contact
CHAIN Biotech: Dr Basil Omar, Chief Commercial Officer on 0777 166 0800 basil.omar@chainbiotech.com
Porton Biopharma:  Dr Phil Luton, Commercial & marketing Manager on 01980 619723 or 07342 056193 phil.luton@portonbiopharma.com
Scitech: Rachel Slater, Business Development Manager on 01483 270 524 rachel.slater@scitech.com
CHAIN has been awarded £0.5M grant funding from Innovate UK, the UK's Innovation agency, to expand its range of biotechnology products. Building on a successful synthetic biology program, the grants support further development of CHAIN's proprietary Clostridium platform for therapeutic and specialty chemical applications.
A two-year project will focus on the development of novel therapeutics targeting gut-related disease. CHAIN has successfully demonstrated the use of Clostridium to deliver small molecules to the gut. In this project, we will expand the range of therapeutics to include anti-microbial and anti-inflammatory peptides. This work will be carried out in collaboration with leading researchers in Clostridium genetics at the Synthetic Biology Research Centre (SBRC) at the University of Nottingham.
The second project focuses on the production of high-value chiral chemicals. CHAIN has already successfully developed a Clostridium strain that produces (R) 1,3 butanediol, an important building block for several nutraceutical and pharmaceutical products. In this project, we plan to improve microbial performance and deliver a cost-completive fermentation process for chemical production.
CHAIN is currently focused on the testing and progression of its lead gut microbiome therapeutic for the clinic, targeting inflammatory bowel disease.
Dr Edward Green, Chief Executive at CHAIN comments
"Grant funding supports our highly skilled discovery team, based at the SBRC and strengthens ties with the Centre. Ultimately, this serves to build and accelerate our product discovery pipeline without undue distraction from our lead product."
This article first appeared on chainbiotech.com on 09/09/2017 and was covered by SynBioBeta synthetic biology news: https://synbiobeta.com/chain-awarded-0-5m-grant-funding-develop-healthcare-platform/.
CHAIN plans to attend a record number of microbiome and biotech conferences over the next year to showcase our therapeutic platform and identify partners for the development of novel, targeted therapies.
First up is the Spores Conference in April where our Technical Product Manager, Dr Daniela Heeg, will speak about CHAIN's novel therapeutic delivery platform. The list below is by no means exhaustive – so watch this space! Follow CHAIN on twitter and LinkedIn for updates.
8th European Spores Conference
April 16-19, Royal Holloway University of London, UK
Biotrinity 2018 will be attended by our Innovation Manager, Ben Bradley, who is speaking on 25th during the BioLaunchPad session
April 23-25th, London, UK
Biotech Investment Showcase
May 22-23, London, UK
2nd Annual Microbiome Discovery and Development Congress
June 7-8, Berlin, Germany
Microbiome Drug Development
June 19-21, Boston, USA
7th International Human Microbiome Congress 2018
June 26-28, APC Microbiome Institute Cork, Ireland